Hey it's Friday! Wooo! Make sure you check out the sale at the end of this! Oh man I've been like itching to sit at my computer and design, I've got something in the works for next week, but I've also go so many other ideas! Anyways My Son's birthday was on the 6th, and we're having his party on Sunday, so I keep telling myself I need to clean! Lol so I get very little done in either place haha! So first order of business, I'm having a CT call, I'm looking to add a few more girls to my team! E-Mail me if your interested!
RGPrettyinGreen@hotmail.com
And I Made that beautiful ad with A Pony Party my newest release, I've been wanting to do this kit for so long, but the colors I wanted to use were more springy so I put it off in the winter so I could release it this spring… well while I was waiting pony kits started popping up all over the place, great minds think alike! So I slowly work on this kit and I have to say I was worried about how it would turn out because it took so long, but in the end I'm so happy with it, it's exactly how I pictured it in the first place! Anyways enough gab from me… check it out!
A Pony Party
25% off for the weekend!
Are you ready to party? A Pony Party by Pretty in Green is a super cute kit full of ponies and magical fun pieces sure to delight! This full kit is complete with 15 pretty patterned papers and 30 unique elements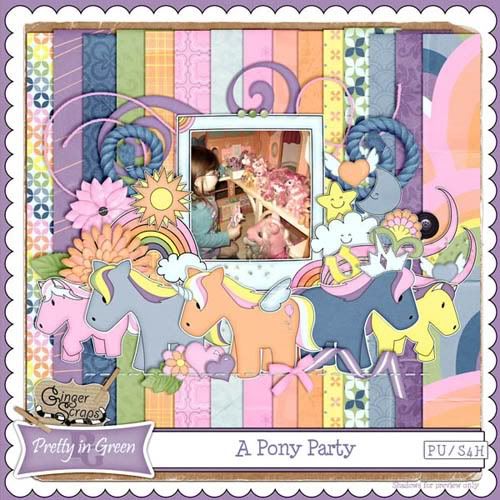 A Pony Party Card Stock
25% off for the weekend!
Pretty in Green also has A Pony Party Card Stock full of coordinating solid color papers, a great addition to the A Pony Party kit. 11 papers.
My CT did a wonderful job with this kit, they always do! so cute!
Have you tried
Persnickety Pints
yet? nows a good time we've got an exclusive sale for you this weekend 25% off prints! April 8-10th! Trust me YOUR going to LOVE what you get!
also don't forget about all the challengs over at Ginger Scraps this month I'm Hosting the Scraplift Challenge and I'd love to see you there :)
oh and before I forget! the Ginger Scraps App is now available on Android!
Here's a Super Cute
Cluster Freebie
from my CT Memeber Mel, Thanks Mel!!