well good morning, I'm gonna make this post short and sweet. I didn't prepare it last night due to a huge headache, Grrrr I hate headaches!
Any how I've got a new set of CU templates out this week, I know it's sad to think about fall, when it seems like summer just started but I couldn't help but make these, which will benefit you so now you can be ahead of the game too!
Harvest
by Pretty in Green is a set of 8 fun fall CU layered Element templates, perfect to help you fill in your next fall themed kit!
also don't forget my whole store is on sale!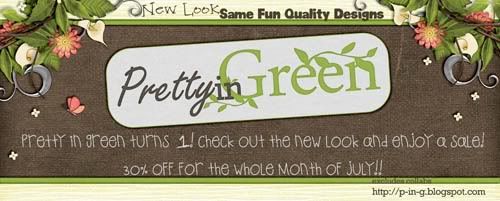 and one last note, My CT Jacque will be hosting a Speed Scrap July 16th at 10am est, grab a cup of coffee and met her at
Ginger Scraps
!
ok that's all i've got for you today sorry no freebie, but you can still snag items from the blog hop and my free mini kit!