hey! I hope everyone had an awesome week! mine has been up and down but mostly good :)
so I bet your ready for my CT blog hop huh?! my girls have made some super cute Brag Books and Clusters for you, I hope you stop each one of their blogs and pick up the goodies! but first, I've got a little new release, well kinda lol. This cute little chilly delight was the kit I had
featured
in the DSA May Fix, so don't be sad if you missed it, because it's at Ginger Scraps now!
Chilly Delight
is an ice cream dream, perfect for the warm nights of summer, dont let it melt! 19 papers and 17 elements.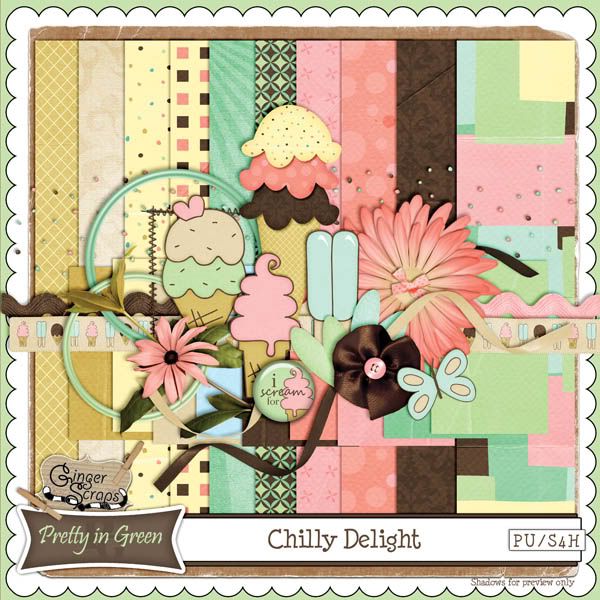 and My awesome CT Sarah will be hosting a SS this after noon!
4pm Est. hang out and chat, make an awesome layout, and get a prize!
ok now on to the HOP!!!
Hippy Hop Hippy Hop, welcome to the prettiest blog hop you've ever been on! Pretty in Green is celebrating her first year in Designing, and by the looks of her kits you wouldn't know it, just darn pretty! so lets get to the goods! if you haven't already picked up the
FREE mini kit
make sure you stop by her store at Ginger Scraps. The wonderful and fabulous Made Pretty Creative Team have come up with some fun funky and pretty Freebies, just follow the blog hop and pick them up!
If you get lost along the way head back to the Pretty in Green Blog.
1. Pretty in Green-
http://p-in-g.blogspot.com/
2. Sarah-
http://tm2ts.sarahsmidnightfantasy.com/
3. Sarah I-
http://inthesmallthings-scraps.blogspot.com/
4. Kimmy-
http://www.kimmyscraps.blogspot.com/
5. Jacque-
http://get2scrappin.com/
6. colleen-
http://marinewifemommyscrapper.blogspot.com/
7. missi-
http://www.damseldesigns.blogspot.com/
8. Donna-
http://www.riderprider.blogspot.com/
Don't forget there's more fun planned for the whole month, and of course the 30% sale!