good morning! I hope your week went smoothly if your in the back to school routine, or I hope you had an awesome week if school hasn't stated for you yet. Gage's school technically starts on Monday, but this last week he was in kindercamp which was only 2 hours long just to get him used to how kindergarten works and get to know his teacher a little bit. OH! and we took him to the dentist this week, he's got his first loose tooth! oh my goodness kids really grow up way to fast, it makes me want to have more babies!
alright lets get down to business lol new release this morning and it's a charity kit! a few months ago while sitting in church during the little announcements, they told us they are working on setting up the basement of the coffee house (which is run by the church) renovating it, for the teens, well anyone who wanted to hang out there, to make it a fun place for the kids to hang out, meet, have some fun and stay out of trouble in a faith friendly environment. being a church they are asking for some help in any area that anyone could provide. This got me thinking while i plan on volunteering my time, I also thought about the gifts and opportunity that has been giving to me, I could make and sell a kit with all proceeds going to this project...
regular $4 on sale this weekend for $3
it's iconic to see kids standing by the side of the road with big signs yelling "Car Wash!" it's good to see kids pitching in and helping out for good causes, this cute kit by Pretty in Green does just that with out getting all wet, all the proceeds from this kit will go towards helping out the youth program at her local church, they are renovating an area for teens to hang out and stay out of trouble. this kit is great for scrapping those cute helpful kids and helps kids at the same time, how can you go wrong!
there are 39 elements and 21 papers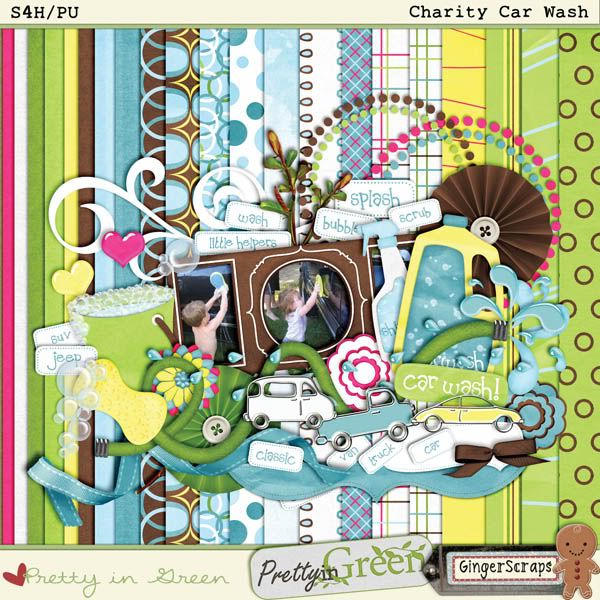 some super cute CT inspirations for you!
Tricia
Dana
Ella
here's a link to the coffee house:
http://freshgroundscoffeehouse.com/donation_opportunities.aspx
and of course your Friday Freebie!
pick it up at
4Shared
Have a good weekend, stop back on Monday for another week of Kit Discoveries!
oh and one last Reminder...
Ginger Scraps Survivor
, did you sign up?